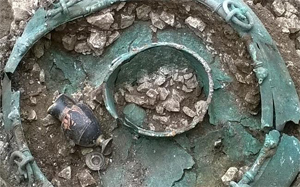 France's National Archaeological Research Institute discovered an ancient grave site, from probably that of an Iron Age Celtic prince, which may lead to the trade between some of Europe's earliest civilizations.
Since October last year a team from the institute has been excavating the site, and have dated it to the end of the First Iron Age a period characterized by the wide use of the metal.
The 'exceptional' grave, crowded with Greek and possibly Etruscan artifacts', was exposed in a business zone on the outskirts of Lavau in France's Champagne region.
This prince is covered with his chariot at the centre of a huge mound, 130 feet (40 metres) across, which has been dated to the 5th Century BC. A team from the National Archaeological Research Institute, Inrap has been excavating the site since October last year.They newly dated it to the end of the First Iron Age – a period characterised by the widespread use of the metal. Its discovery could shed light on Iron Age European trade, researchers say.
The 2,500-year-old funeral mound has at its heart a 14 square metre burial chamber, not yet opened, of an early royal.
The cauldron discovered in the grave has four circular handles decorated with bronze heads that shows the Greek god Acheloos.
The river divinity is shown with horns, a beard, the ears of a bull and a triple mustache. Eight lioness heads decorate the edge of the cauldron. This tomb enclosed a decorated ceramic wine pitcher made by the Greeks.
The decorations on the vessel reveals the god Dionysus, lying under a vine and facing a woman. The archaeologists also found leftovers of a iron wheel, from a chariot buried with the prince. Another interesting detection was a perforated silver spoon that was part of the banquet utensils, presumably to filter the wine.
March 9th, 2015 at 6:59 am
Leave a Reply