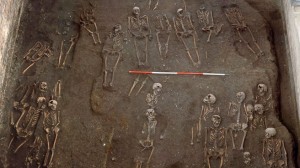 Archaeologists found the human remains during a dig beneath an old school building at Cambridge University – one of England's oldest and most impressive universities.
Images from the dig, viewing almost fully preserved medieval bodies unearthed after centuries of burial, were released for the first time yesterday, in a report published by the Archaeological Journal.
The report exposed the complete skeletal remains of more than 400 medieval burials were uncovered by the team, along with the incomplete remains of around 1000 other individuals.
The shocking images show the bodies tidily laid out in rows, without coffins or many personal items.Cambridge archaeologists say the skeletons, which date back to somewhere between the 13th and 15th century, were found while digging beneath the Old Divinity School at St John's College.
The school, built in the late 1870s, was the past site of the St John the Evangelist Hospital's committal ground, which was established in 1195 to care for to poor and sick.
Researchers say the lack of coffins and individual items supports the theory the graveyard was used to serve the poor.
The site also had gravel paths, a water well and flower seeds, suggesting that relatives had visited their deceased loved ones.
Craig Cessford of the Cambridge University Department of Archaeology and Anthropology led the dig and said it was "one of the main medieval hospital osteoarchaeological assemblages from the British Isles."
The cemetery's survival and location was no secret.
What historians didn't know was just how many burials stood on the site. The sheer scope of the graveyard has been unknown until now.
Despite rumors linking the hospital graveyard to the Black Death and the plague, there was no evidence of disease on the remains, archaeologists said.
Most of the leftovers belonged to men aged between 25 and 45.
The bodies astonishingly did not display many serious illnesses and conditions that would have required medical attention.The Archaeological Journal report suggests that "this could reflect that the main role of the Hospital was religious and physical care of the poor and infirm rather than medical treatment of the sick and injured".
April 24th, 2015 at 6:34 am
Leave a Reply