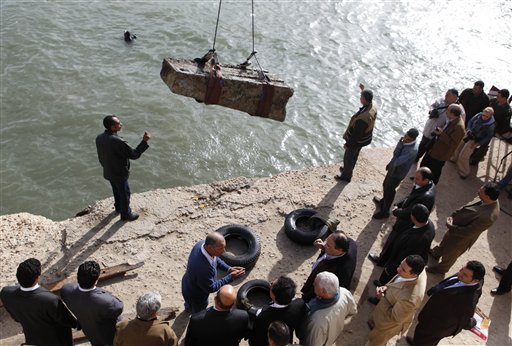 Egyptian archaeologists have lifted an ancient granite temple pylon out of the waters of the Mediterranean, where it had been lying for about centuries as part of the palace complex of Cleopatra, submerged in Alexandria's harbor.
The pylon, which previously stood at the entrance to a temple of Isis, is to be the showpiece of an ambitious underwater museum planned by Egypt to display the sunken city, which is supposed to have been collapsed into the sea by earthquakes in the 4th century.
Divers and underwater archaeologists used a huge crane and ropes to haul up the 9-ton, 7.4-foot-tall pylon, covered with dirt and seaweed, out of the muddy waters. It was placed on shore as Egypt's top archaeologist Zahi Hawass and other officials observed.
The temple, devoted to Isis, a pharaonic goddess of fertility and magic, is at least 2,050 years old, but likely much older, and the pylon was cut from a single slab of red granite excavated in Aswan, some 700 miles to the south, officials said. It was part of a rambling palace from which the Ptolemaic dynasty ruled Egypt and where 1st Century B.C. Queen Cleopatra persuaded the Roman general Marc Antony before they both committed suicide following their defeat by Augustus Caesar.
Egyptian authorities hope that ultimately it will turn out to be a part of the underwater museum, an ambitious effort to draw tourists to the country's northern coast, often outshined by the grand pharaonic temples of Luxor in the south, the Giza pyramids outside Cairo and the beaches of the Red Sea.
Still in its developing stages, the museum would permit visitors to saunter through underwater tunnels for close-up views of sunken artifacts, and it may even comprise a submarine on rails.
December 30th, 2009 at 9:57 am
Leave a Reply