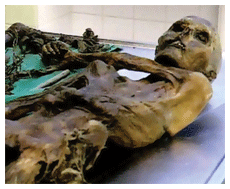 5000 year old murder case was cracked using new investigational methods by a team of archaeologists in LMU research team. The chronologies of injuries were released to the world few days back by Professor Andreas. The Iceman survived the arrow wound in his back, but after a short time he had received a blow at the back of his head with a rock. Archaeologists are not sure if this could have happened due to a fall, or another person hit him from behind.
The cut under his thumb which reached the bone should have been some days older but had no time to heal before his death.
Nerlich, the person who led the study stated that "It is now clear that Otzi endured at least two injuring events in his last days". Otzi continues to give new results each time. Otzi is the oldest Ice mummy found. His clothes and equipments tells us about his sophisticated life style. The copper axe he owned would have needed a tribe to make it, he could not have made it alone. This also exposes our knowledge about Copper usage in Neolithic age. Otzi and his companions were well out of their territory which could have caused the whole dispute. They should have gone hunting and would have ignorantly entered into another tribes territory which has led to their death.
If  you want to read this related  Articles..please [ click it].
February 6th, 2009 at 10:25 am
2 Responses to "The Last Days of Otzi's:"
Monika Zephier Says:


If this were truly the social etiquette 5000+ years ago, humankind wouldn't have survived. By the way: How does science determine neolithical territorial boundaries or tribal behaviour of Oetzi and his people?
MZ

February 23rd, 2009 at 8:12 am
admin Says:


It undergoes a lot of theories and research. The only basic needs on those days were Food, Shelter and Clothing. It was not mentioned that Oetzi was tribal, it simply says a theory that the commotion could have been caused because of a fight for one of these basic needs.

February 23rd, 2009 at 8:44 am
Leave a Reply