, recently recovered from the bottom of the South China Sea, is threatening to inflame a diplomatic row over an area believed to be rich in oil.
Divers working for the French oil company Elf, stumbled across the wreck of a 15th Century Chinese galleon containing a hoard of priceless porcelain and ceramic pieces.
The ship went down off the coast of Brunei and is thought to contain one of the largest hauls of buried treasure ever uncovered.
Using the same two-seater submarine as those used to survey the Titanic, archaeologists uncovered an Aladdin's Cave of intricately painted ancient pottery.
For more than two months, a daily haul of hundreds of artefacts were hauled to the surface. Back on land, a vast hanger was built to clean and catalogue the discoveries, thought to be worth millions of dollars. "It's a fascinating project," says John Perry, Managing Director of Elf Petroleum Asia.
"The artefacts themselves, in their day may have been ordinary things in the street but today they have a timeless beauty, which is so hard to define but so real to touch."
For Brunei, a nation keen to lessen its dependence on oil revenue, the discovery has become a source of new national pride.
The artefacts provide the tiny sultanate with something money alone cannot buy – symbols of a cultural identity which, officials hope, will boost tourism.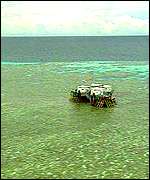 October 22nd, 2008 at 11:03 pm
Leave a Reply